Mag. Schaller has organized numerous successful online coachings and courses in the past and can therefore refer to years of experience in implementation.
Video meetings without registration or download possible!
Arrange an appropriate schedule and participate
wherever you are – also at work or from home
on a laptop, tablet or even smartphone!
Save fuel, time and money!
You can also share presentations, work materials or drafts in your conference call.
Chat in a team or 1:1 and review results together.
Use the full functionality of Skype TM to fasten and strengthen your progress!
Care for your health and privacy!
Michael, Coach & Language Tutor. Get in touch via Michael's webpage: https://www.lernstudio-schaller.eu
We assist you with establishing a way to attend Mag. Schallers' counselings and courses online.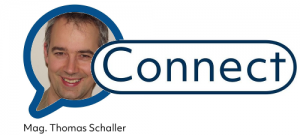 Facebook Page & Group with over 35.000 English learners
Join our rapidly growing networks with over 35.000 students from all around the world.
Meet thousands of mates from all over the world and learn English together. Exchange English material with your friends, teachers and other students . Find more information about our books. Learn English Grammar and vocabulary. Join our Facebook network and help us grow. Spread and share our posts with your friends to optimize your new experience of learning!